Singapore may be one of the most expensive cities in the world, but its humble hawker centers are the backbone of the country's dining scene. The government opened up these no-frills food courts to properly manage the sanitation practices of the many unlicensed street stall carts flooding the city in the 1950s.
Today, over 100 hawker centers around the island are culinary destinations for people from all walks of life — producing everything from affordable homestyle dishes to gourmet offerings for tourists and locals alike. If you're looking for a foodie haven in Singapore, hawker centers are for you.
Of course, with so many hawkers around the island, it's tough to choose which to visit. We've compiled some of our favorite hawker centers to try on your next trip to Singapore.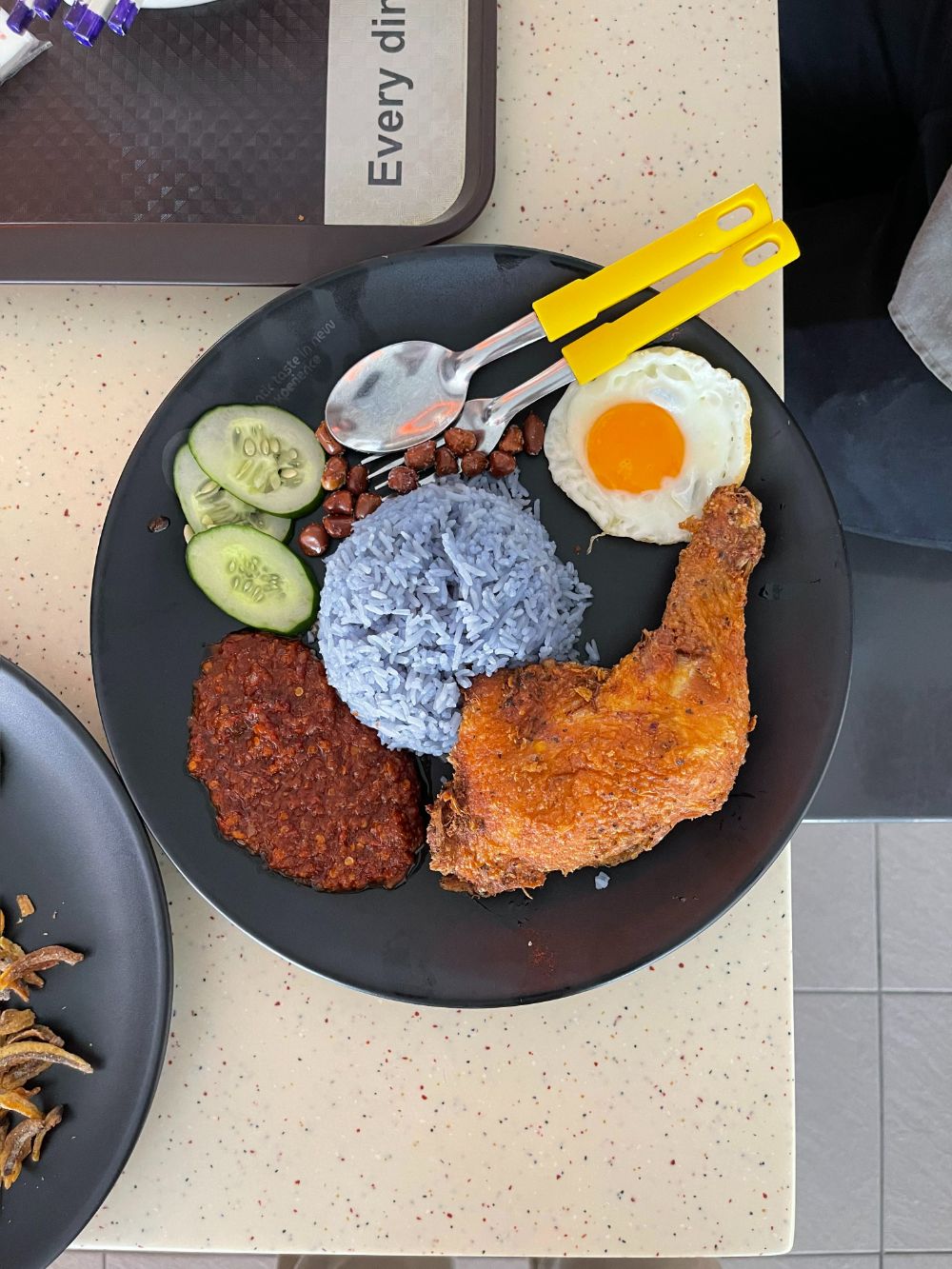 Old Airport Road Food Centre
Block 51 Old Airport Road, Singapore 390051
If you're looking to check out some of the most famous hawker stalls in all of Singapore, head to the Old Airport Road Food Centre. Built on the runway of the old airport, it's also one of the oldest and biggest hawker centers on the island. You're likely to see lines of diners zigzagging around and between over 150 stalls, but don't be alarmed. Instead, follow the queues to some of those well-known spots for dishes like soya beancurd and rojak, a fruit and vegetable salad with sweet palm sugar dressing.
Maxwell Road Hawker Centre
1 Kadayanallur Street, Singapore 069184
This single-story hawker is just across from the Buddha Tooth Relic Temple in Chinatown. It actually used to be a fresh food market, or what's called a "wet market," in the 1950s. Today, it serves as a popular hawker that is often featured on television. Chicken rice is the dish to eat here. The Michelin Bib Gourmand award-winning Tian Tian Hainanese Chicken Rice stall is resoundingly unrivaled.
Tiong Bahru Market Hawker Centre
30 Seng Poh Road, Singapore 168898
Tiong Bahru is an artsy, hipster area of Singapore, which makes it an ideal location for a bustling hawker. This hawker in particular sits right above a wet market, where you can find fresh produce, fish, and meat and get a great feel for how Singaporeans shop and cook at home. It's also an ideal spot for breakfast. Get there early to try chwee kueh at Jian Bo Chwee Kueg — steamed rice cakes with preserved radishes. Or, try warming bowls of gravy soaked noodles with all sorts of delicious toppings like pork belly and wontons.
Chomp Chomp Food Centre
20 Kensington Park Rd, Singapore 557269
Also known as the Serangoon Gardens Food Centre, Chomp Chomp sits in a residential area of Singapore. Unlike most hawker centers, it doesn't open until later in the afternoon, so it's an ideal spot for dinner or some late-night nosh. It is also known as the best place for satay (grilled skewers). Whether it's beef, pork, chicken, or even mutton, they do it right here.
Chinatown Complex Food Centre
335 Smith Street, Singapore 050335 
Located in the heart of Chinatown, the Chinatown Complex is the largest hawker center in the whole country. With access to over 260 stalls, you can taste every Singaporean flavor imaginable. Even better are the prices: with so many stalls pitted against each other, vendors compete for your business by keeping prices low. Get the cheapest Michelin meal around at Liao Fan Hong Kong Soya Sauce Chicken Rice and Noodle.
Amoy Street Food Centre
7 Maxwell Road, Singapore 069111
Also in Chinatown and the central business district, the Amoy Street Food Centre is especially busy at lunchtime, with office goers getting their fill. Try creative versions of steamed dumplings at the Hoo Kee Rice Dumplings stall or check out the Amoy Street Fried Kway Teow, which started as a humble pushcart in the 1960s and has transformed into one of the top places for char kway teow, or stir-fried rice noodles.
Tekka Market Food Centre
Bukit Timah Road, Singapore
A hawker center right at the entrance of Singapore's Little India means you're definitely getting the absolute best of the country's Indian cuisine here. Tekka has over 100 food stalls, along with a wet market and retail shops, and is a bustling spot with so many delicious dishes to try out. Check out the briyani — a fragrant rice dish slow-cooked with tender meats and vegetables — at Allauddin's Briyani, which has been in operation since 1968.
Lau Pa Sat
18 Raffles Quay, Singapore 048582
Lau Pa Sat, the historic "old market," is conveniently located near the main downtown attractions and in the middle of the Central Business District. At night, they actually block off the road and satay sellers take over, filling the street with the smell of char-grilled meats and spices.
Newton Food Centre
Newton, Singapore
This lively outdoor hawker made a recent appearance in the film Crazy Rich Asians. Tons of exciting stalls and a vibrant atmosphere are reason enough to check it out. Don't miss Hup Kee Fried Oyster Omelette, a stall that has been turning out crispy omelets with garlicky chili sauce since the 1960s.
Singapore's Hawkers: The Epicenter of Culinary Innovation
Singaporeans enjoy hawker center meals multiple times a week. They look to these thousands of stalls as both traditional stand-bys and true epicenters of culinary innovation in the country. The locals' cutting-edge appetites offer innumerable opportunities to try all sorts of new flavors, making it the ideal spot for innovative and alternative proteins, such as cell-cultured meat.
Cultivated meat is already making its way into the culinary landscape in Singapore and we are seeing shifts in how locals consume animal products. Learn more about cultivated meat from Aleph Farms and find out how Singapore's vibrant food scene is leading the way.