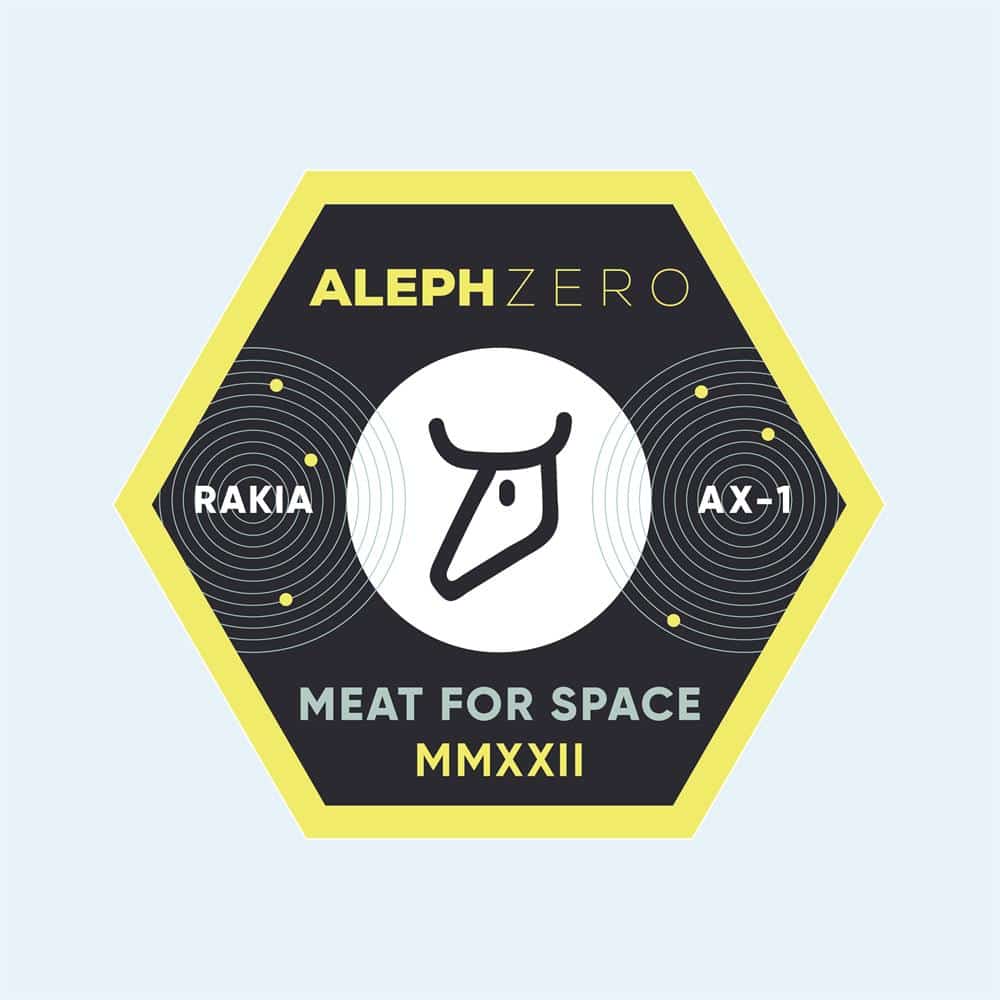 As we shared this summer, Aleph Farms will be heading to space, again. As part of our space program, Aleph Zero, on March 31, 2022, we will be part of the historic Rakia Mission, led by the Ramon Foundation and the Israeli Space Agency. ICYMI: Aleph Farms conducted a successful first experiment on the International Space Station (ISS) in September 2019 in which we were able to assemble meat tissue using 3D bioprinting technology, in partnership with 3D Bioprinting Solutions.
The Rakia Mission will be part of Axiom Space's Ax-1 Mission, operated by SpaceX, and is the first ever all-private crew to ever visit the ISS. The astronauts leading the mission include Israeli businessman and former combat pilot Eytan Stibbe. Stibbe will be the first Israeli aboard the ISS and the second Israeli ever in space, following Ilan Ramon who tragically died while onboard the Columbia Space Shuttle, which crashed during re-entry in February 2003.
During their time on the ISS, the astronauts will conduct innovative research designed for microgravity conditions on behalf of organizations worldwide, including Aleph Farms, and critical findings from the extensive array of experiments will make their way back to Earth upon entry.
In parallel with the Rakia Mission, Aleph Farms is also working on its next space challenge – developing a system that produces cultivated steaks on a 3-year-long mission. Astronauts will also be able to customize the nutritional composition of the steaks and even enhance them with vitamins and minerals. This co-development with our partners, Astreas, has advanced to Phase 2 of NASA's Deep Space Food Challenge as part of the Mission: Space Food consortium.
Prolonged exploration in space, such as getting to Mars, is limited by the ability to provide quality nutrition to astronauts. Aleph Farms is developing a technological platform for the production of cultivated beef steaks in a process that consumes a significantly smaller portion of the resources needed to raise an entire animal for meat. Understanding these processes in such an extreme environment, will advance Aleph's ability to develop a complete process of cultivated meat production for long-term space missions and build an efficient production process that reduces the environmental footprint on Earth.
Interview with Aleph's Head of Space Research
We sat down with Dr. Zvika Tamari, the Head of the Space Research Team at Aleph Farms for a short interview as he prepares for the mission in February.
Zvika, what is the most significant project you're currently working on ahead of the Rakia Mission?
Our experiment as part of the Rakia Mission will make use of a special microfluidic device, developed by SpacePharma, that enables cow cells to grow and mature into cells that build muscle tissue, the cultivated steak, under microgravity conditions. This constitutes a totally different environment for these processes to take place, which means that a lot of work is required in order to establish the conditions and procedures that can ensure their successful implementation.
Establishing the procedures that can result in successful cell growth and maturation constitutes the most significant part of my work in preparation for Rakia Mission.
Can you tell us more about your background and how your experience with alternative fuels and renewable energy contribute to your focus of work at Aleph?
My background in developing alternative fuels started from my PhD and postdoc, where I gained the necessary practical expertise to conduct cutting-end research in molecular biology, which is what the scientists at Aleph do.
Philosophically and scientifically, alternative fuels and cultivated meat are very similar. Food in general, and meat included, serves as a fuel for human beings (and all living creatures for that matter). Therefore, cultivated meat is basically an alternative fuel. Previously I was working on alternative fuels for transportation, and now I'm working on alternative fuels for humankind.
Unsurprisingly, both transportation and food sectors are two of the main greenhouse gas emitting industries, while their alternatives counterparts offer the potential remedy.
Zvika, why did you ultimately decide to join Aleph?
First, I like working on very big and impactful questions. Specifically cultivated meat interests me on several levels. From the scientific-technological point of view, as someone who loves meat, I am intrigued by the question: Can you recreate the experience of real meat? Up until now, no one had succeeded. From an environmental perspective, my entire career I've worked on the realization of clean fuels, so Aleph's goals are totally in sync with mine.
From the standpoint of Jewish law (Halacha), I have a strong background in religious studies (I edited two books in Jewish law by my grandfather who was the Chief Rabbi of Israel). The question of the status of cultivated meat, whether it is kosher or not and whether it is considered meat in terms of the restrictions on mixing meat and dairy products, is fascinating to me.
If you were to describe Aleph's space program in 3 words, what would they be?
Steak for space.
Lastly, if you were to describe Aleph generally in 3 words, what would they be?
Entirely friendly meat.