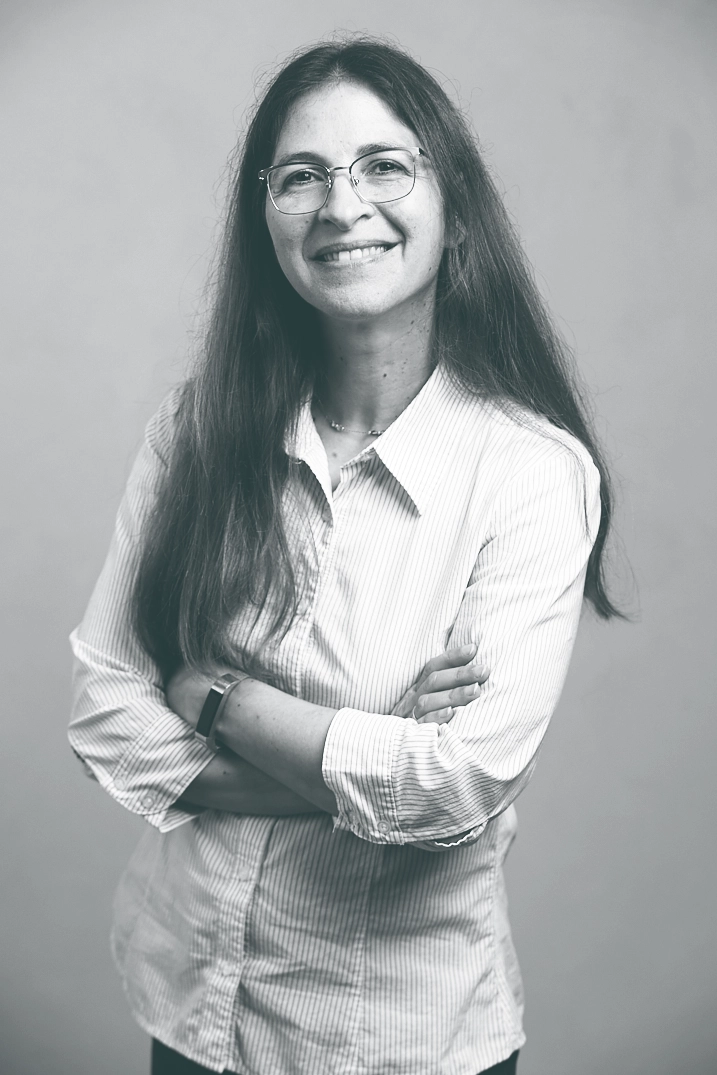 As a scientist, Dr. Ayelet Maor-Shoshani is constantly investigating ways to improve life on our planet. This profound curiosity has continuously sparked her inner drive, allowing her to push innovative boundaries in the scientific community. Even as a young child, she was inquisitive and precise with every observation, compelling her to dig deeper through the evaluative process of the subject matter at hand.
Dr. Maor-Shoshani joined our team at Aleph Farms in 2018 after spending a decade developing cell-cultured therapeutics in the pharmaceutical industry. Before that, she completed her PhD in Biological Chemistry at the Weizmann Institute of Science, along with her postdoctoral studies at MIT (Massachusetts Institute of Technology). Throughout her career, she has worked tirelessly to understand cancer diseases at a molecular level and develop production techniques for therapeutic treatments based on cell cultures for medical purposes.
Today, Dr. Maor-Shoshani and her team are laying Aleph's foundation to achieve our objectives and aspirations in terms of scalability and cost reduction. The team has been identifying the right conditions to cultivate cells that we isolate from a living cow, allowing us to safely and efficiently cultivate a steak that can be reproduced. Using this process, we avoid any genetic cell manipulation, which is important to our team and our consumers.
Focused on cell line and media development, Dr. Maor-Shoshani's team has been establishing cell banks as sources for the production process. By identifying the nutrients necessary to assist in the maintenance of cell growth and other characteristics, they will enable the cells to eventually mature into muscle, fat, and collagen-producing cells, which are the building blocks of our cultivated steak. It's important to note that those nutrients are produced without the use of fetal bovine serum (FBS) or animal-derived ingredients. Dr. Maor-Shoshani's role in open supply chain partnership with WACKER, which eliminates the significant cost barriers for wide-scale cultivated meat production, was recently spotlighted here.
Today, March 8, we celebrate International Women's Day 2022 (IWD 2022). The UN has defined the theme of this day to be "Gender equality today for a sustainable tomorrow". It recognizes the contribution of women and girls around the world who are leading the charge on climate change adaptation, mitigation, and response to build a more sustainable future for all.
We sat down with Dr. Maor-Shoshani to better understand why and how curiosity, critical-thinking and high-quality science are among her everyday motivators at Aleph. Our hope is that when we ask young girls to draw a scientist, they'll follow Ayelet's path – they'll draw themselves.
If you were to describe your work to a 16-year-old, how would you do it?
That's a fun practice. I truly believe in our responsibility, as scientists, to communicate what we do in a manner that anyone and everyone could digest. This is one of the reasons why I invited my son and his Biology and Chemistry class to our community center at Aleph Farms few weeks ago. I believe that we, as scientists, need to educate and show that science is being used for the betterment of humanity, especially when we think about curious young generations. Science is a huge part of our world today, and it's reflected in important public conversations about food, climate change, space exploration and even vaccines in the medical world.
Assembling media to support our cells growth and characteristics is like combining ingredients for a cake, but without a recipe. The only parameter that can be tested in the end is whether the cake tastes good or not. In our case, if our cells grow happily in the mixture of ingredients given to them, we know that we developed the right recipe. We are feeding the cells with similar nutrients that the cow eats, in a process that is much more efficient. The nutrients are in direct contact with the cells and don't need the cow's body as the 'middleman'.
What obstacles are you currently trying to overcome in your work?
After successfully designing a growth medium solution that doesn't include any ingredients from animals, our main mission today is to reduce the cost of our growth medium by matching the ingredients that comprise it to the standard of quality and scale of the food industry.
How does your background contribute to your work at Aleph?
Before joining Aleph Farms, while I was working in the pharmaceutical industry, I worked on cell line and media development for recombinant proteins production. At Aleph Farms, we are working with different cell types and different growth media, but the concept of developing it, and conducting the scientific experiments to get to the optimal cell line and growth conditions, is the same.
I don't have a role model. I think you can learn from every single person and appreciate their inner strengths. You can learn from other people's weaknesses and try to avoid or not repeat their mistakes.
What kind of characteristics are you looking for when recruiting a researcher to your team?
The most important thing I am looking for is someone's ability to think: the ability to define the research question and how to address it, to anticipate experimental obstacles and how to solve it. Critical thinking is when you look at scientific results and try to draw the right conclusions. This is a skill that is difficult to be taught, compared to most of the technical skills.
Why did you decide to join Aleph in the first place?
I joined Aleph Farms after feeling the passion of the people and seeing the high-quality science at the company. After working at the pharmaceutical industry for a decade, I wanted to move to my next endeavor and expand my knowledge to a new and exciting subject.
If you were to describe Aleph Farms in 3 words, what would they be?
Everything is Possible!