In early March 2022, Aleph Farms was featured in the New York Times Food Section, highlighting the imminent shift in food agriculture technology and production to cultivated meat and long-term sustainable solutions. Coverage from prestigious media outlets plays a central role in shaping the public discourse, and at Aleph, we are grateful to be at the forefront of a cultural, environmental, and ethical conversation around a sustainable transition in our food systems.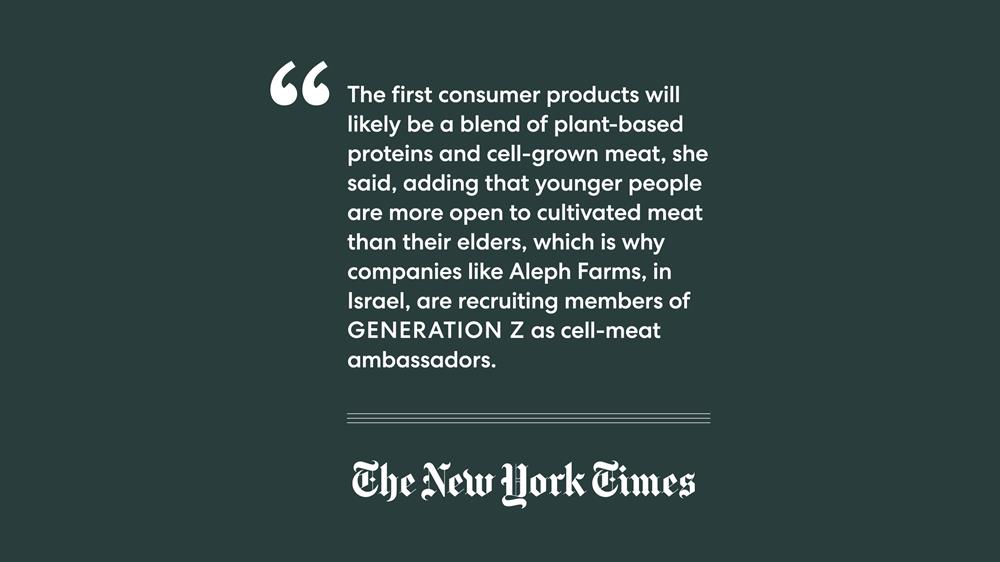 In the inclusive model of Aleph Farms for the transition of our food systems, consumers play a vital role in the overall solution. Consumers are the main drivers of the food sector as it transitions to becoming more responsible and transparent. The impact of consumer choices, both in quality and quantity, stresses the importance of investing in consumer education around responsible consumption of food, and of meat in particular, given the externalities that the production of meat has. As mentioned in the New York Times coverage, we are also seeing a promising trend in openness and acceptance to meat production alternatives, such as cultivated meat, coming from Generation Z as well as prominent public figures, including Leonardo DiCaprio.
In September 2021, Aleph was proud to officially announce that Leonardo DiCaprio joined Aleph Farms as an investor and member of our Sustainability Board. DiCaprio has been involved with climate change and the sustainability movement for two decades. He created his own foundation to work on environmental conservation and renewal, and was named as a United Nations Messenger of Peace in 2014 for his dedication to climate-related causes. With his background in climate change activism, we found it imperative that we leverage his involvement to help shape public education and awareness around transitioning food systems.
At Aleph, we also believe Generation Z will be integral in shifting to sustainable food systems, and we are proud to be including Generation Z in our dialogue and giving them a voice as our ambassadors. Youth have the right to have their views taken into account, especially when it comes to policy decisions that  will impact their lives.
Our Gen Z program enables younger generations to bring new ideas to our decision-making table, to look at issues with new eyes, and to provide new perspectives to problem solving. By engaging youth not merely as consumers but as stakeholders, we know that we have worked to make a positive impact in the lives of the next consumer generation. The program includes mentoring and capstone projects from helping to shape our activities in space to having input around ethics and our technology, as well as our company's approach to food scarcity in underserved communities.
Stay tuned for more details soon about how to apply for this year's cohort of the Gen Z program!