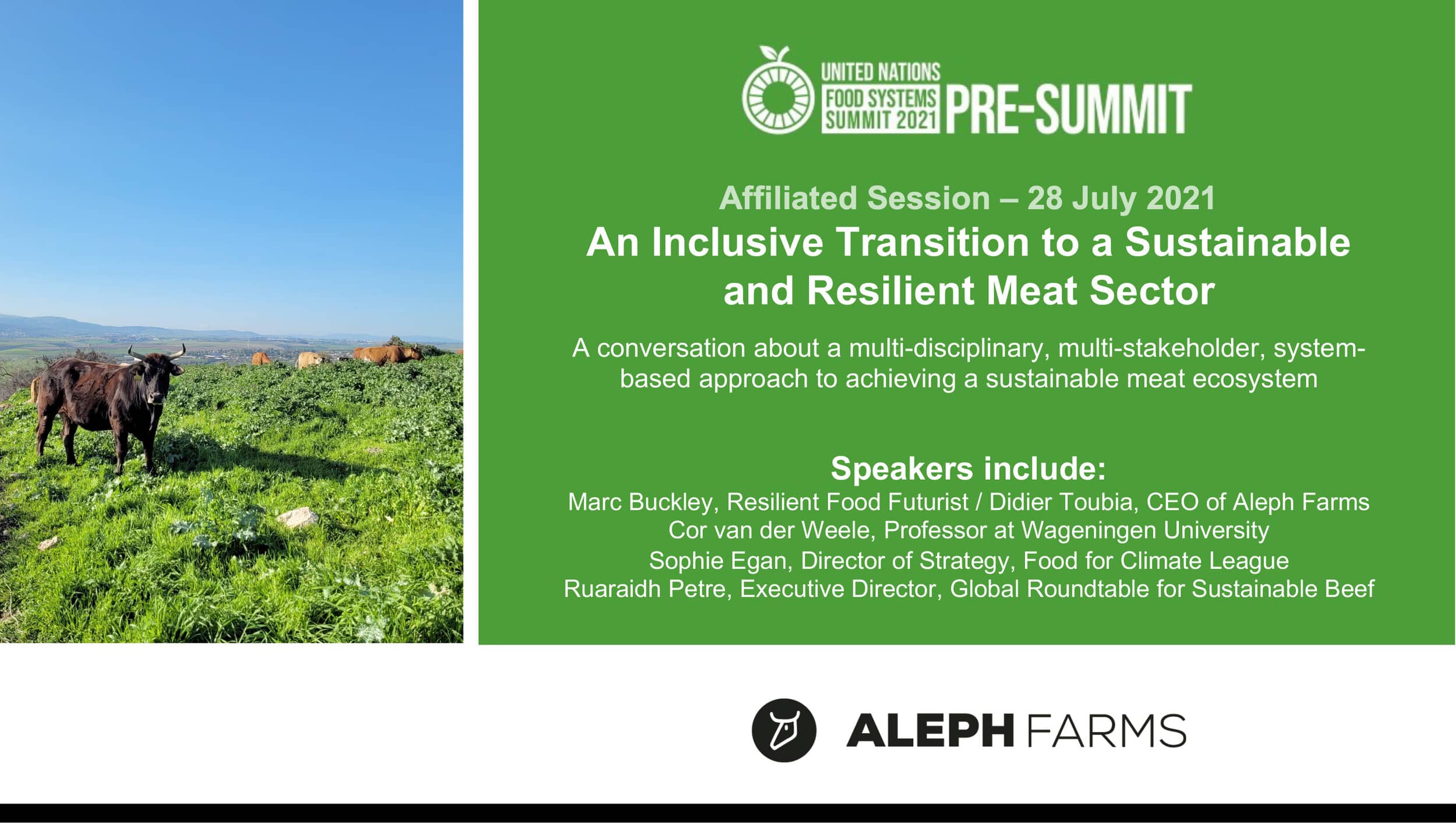 Following the Food Systems Summit Independent Dialogue sponsored by Aleph Farms last month, we're excited to announce we're hosting a UN Food Systems Pre-Summit side event, "An Inclusive Transition to a Sustainable and Resilient Meat Sector," on July 28th between 1:30-2:20pm CEST. It's open to the public and we're inviting anyone interested in the future of our food systems to please join us.
Our virtual side event is part of the Pre-Summit hosted in Rome. The Pre-Summit consolidates the progress achieved through the Summit's wide-ranging process of diverse public engagement, consultations and data gathering that began in 2020. It will set the stage for an ambitious and productive Summit set for September in New York.
You can register for the side event we're hosting on July 28th via this link: bit.ly/3kcP96L.
In addition to building on the outcomes from the Independent Dialogue we sponsored, during this event we will introduce our white paper. Our white paper, also entitled, An Inclusive Transition to a Sustainable and Resilient Meat Sector, identifies an in-depth multidisciplinary approach for farmers, consumers, policy-makers and meat producers to drive a global movement towards a resilient meat ecosystem, and most importantly, a more sustainable future.
Panel speakers represent various stakeholders involved in the inclusive transition of the meat sector and include:
Moderator: Marc Buckley, Resilient Food Futurist

Didier Toubia, Co-Founder and CEO of Aleph Farms

Cor Van Der Weele, Professor at Wageningen University

Sophie Egan, Founder of Full Table Solutions

Ruaraidh Petre, Executive Director of Global Roundtable for Sustainable Beef
"Creating a resilient and sustainable meat ecosystem will require an inclusive solution that combines a multi-disciplinary, multi-stakeholder, system-based approach, that incorporates various strategies, ultimately realizing the complexity of relationships between different activities and stakeholders. Food systems touch all people."
Excerpt from Aleph Farms' white paper, An Inclusive Transition to a Sustainable and Resilient Meat Sector
We hope you can join this conversation!